For Cardiovascular
For General Radiology
For Point of Care / Superficial
In this blog post, we're taking a look at our recommendations for the highest performing portable ultrasound machines available on the market. This list includes new, used, and refurbished portable ultrasound systems and weighs the overall image quality, performance, workflow, and file management against other systems in their respective applications and average price-point found on the market.
It's worth noting that if your facility or practice is open to a stationary or console system, you'll want to first understand if a "portable" ultrasound is the right fit for you. Besides the benefits of portability coming from a smaller form factor, portable ultrasound units also allow for streamlined preventive maintenance by being able to affordably ship your system to a service location. Console ultrasound units will typically be able to provide higher performance imaging at a lower price point but at the expense of potentially higher maintenance and service costs more frequently over time. If you're not sure, please contact us and we'll be happy to help compare the costs and benefits between console and portable ultrasound options.
The portable ultrasound systems we have selected are all from the premium brands on the market: The CX50 from Philips, The Logiq E NextGen & Vivid IQ from GE, the HM70A from Samsung, and the M7 Premium & TE5 from Mindray.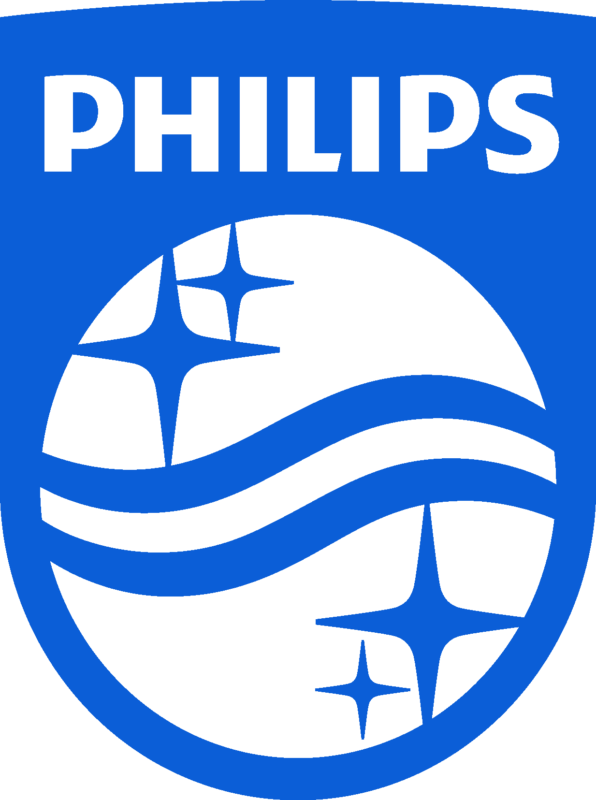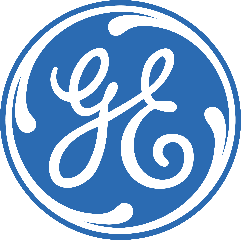 About the manufacturers:
Philips has ranked #1 in ultrasound performance for over 25 years, their dedication to quality healthcare is obvious when you look at the exceptional technology that they've developed in that time span. They only offer one portable ultrasound system in their lineup and it's designed for "critical study requirements and big system performance".
GE has a wide range of portable ultrasound machines for sale that cater to specific applications. With GE's long-standing commitment to excellence, their ultrasound units are the standard in portable ultrasound.
Samsung has really made a comeback in ultrasound (formerly Samsung/Medison). Samsung has never been limited in its imaging technology but there have been some prior complaints of reliability. That's a distant memory as now it's hard to ignore the focus on the quality of workmanship, material, and stability of their premium product lines.
One of our favorite ultrasound manufacturers here at The Ultrasound Source is Mindray. Their systems push the boundaries of what you can get for the price as they continue to produce powerful workhorses that are customizable, affordable, and built extremely well. In the last 5 years, no company has grown more or provided more ultrasound systems into clinical settings than Mindray. Rightfully so, their slogan is "healthcare within reach".
And now, the best ultrasound machines
Philips is the definition of high-performance in a portable ultrasound. This unit combines superior imaging and innovative technology into a nice compact package.
Images are displayed with exceptional quality and accuracy providing you with the data you need for a confident diagnosis even in the most complex exams.
Moreover, this premium portable ultrasound machine supports both PureWave single crystal and xMatrix transducers. The CX50 and its transducers enable a wide range of exams, including abdominal, vascular, small parts, musculoskeletal, obstetrics, gynecology, pediatrics, and adult cardiology with a strong argument to being the best shared service portable ultrasound machine available on the market.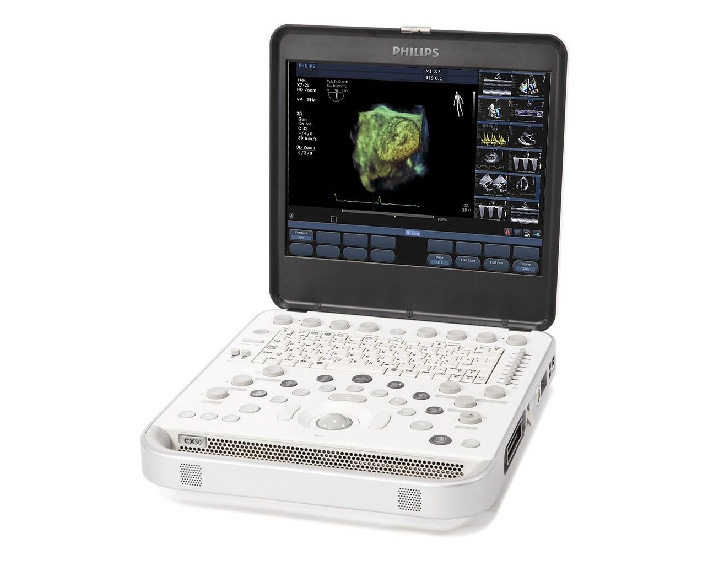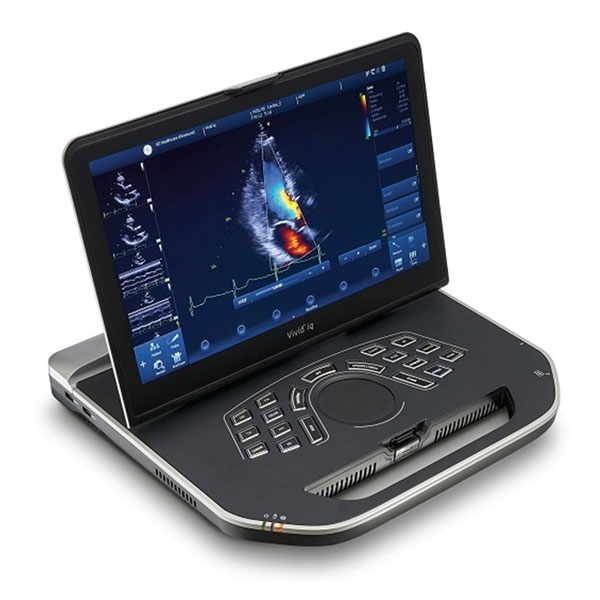 The Vivid™ iq is a compact, yet powerful cardiovascular ultrasound. Carry it under your arm or secure it to a mobile cart with a multi-connector for up the three transducers wherever you need it. This system is lightweight (10% lighter and 10% thinner than the Vivid q). The innovative design features hard keys to have a sealed surface, allowing up to 10ml of body fluids to be spilled and cleaned up with a list of supported disinfectants. It also permits better probe insertion, more reliability, and more protection.
The Vivid iq was just built to handle tough daily demands allowing you to focus on the patient and the quality of imaging during an exam.
Quantification packages on this unit will help you evaluate problems and pursue the path forward. Take advantage of a full suite of simple, intuitive tools to make your work easy and efficient. In the Vivid IQ you'll find a smooth user experience, making your work easier with automated functions as well as touchscreen features similar to those you're accustomed to on your own smart devices.
With today's increasing patient volumes, you can count on GE's premium portable ultrasound unit to help you adapt to new challenges with the combination of power and portability helping you meet the demands necessary to provide fast and exceptional care.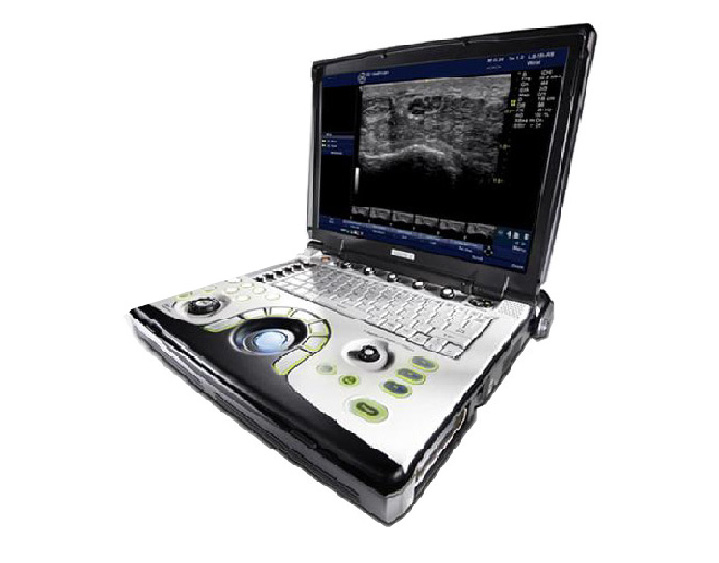 The NextGen LOGIQ e's imaging engine comes from GE's flagship console systems, delivering crisp images in a compact package. Point-of-care, musculoskeletal, head and neck, and anesthesia specific software and transducers help to see the needle to administer a block or perform an aspiration quickly, even in an obese patient. When productivity matters, you can control the console from the transducer – potentially eliminating the need to have a second person assist.
Anatomy-specific presets and the ability to display only the functions you need means you can focus on the patient rather than the control panel. It features enhanced cybersecurity with the Windows®10 operating platforms and is durable and compact for easy portability. The physics of ultrasound says that the higher the frequency, the better the resolution. The L18-8i and L10-22 probes GE developed for this unit can go up the 18 and 22 MHz!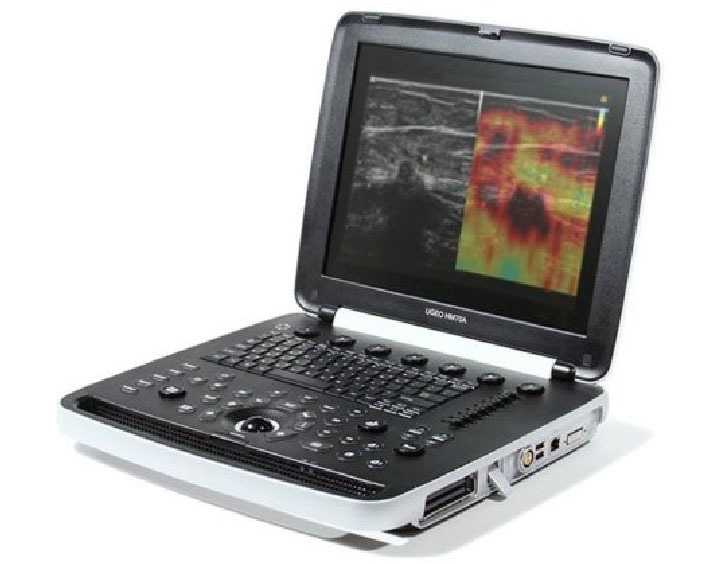 It's proven rather difficult to say anything bad about this particular ultrasound unit for any application. The HM70A is also the only ultrasound unit on this list that has 3D/4D capability. Showcasing unique features like EzAssist (built-in animated clinical applications tool for support while live scanning) and NeedlePilot (think of a guided missile that assists you with a perfect trajectory for injection guidance) this unit has it all. This system's versatility makes it one of the most sought after systems in the market for mobile ultrasound applications.
Mindray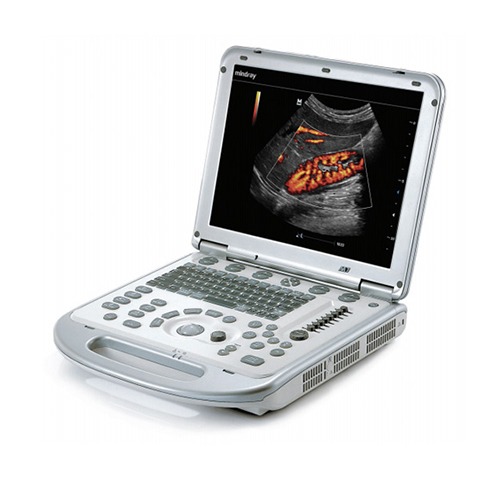 This award-winning portable ultrasound machine is one of the best values available in the mid-tier market. The M7 Premium offers high-performance across a wide range of applications. The M7 Premium is one of the most popular choices for professionals that value the best quality available for the price.

Made with a single-piece magnesium alloy chassis the M7 is drop tested and built to last. Also equipped with a user-friendly and smooth interface the M7's design saves you valuable time and provides you with an excellent system for years to come.

Sharp, crisp, and clear image quality, it can perform any exam, from abdominal to vascular to cardiac, with efficiency and accuracy.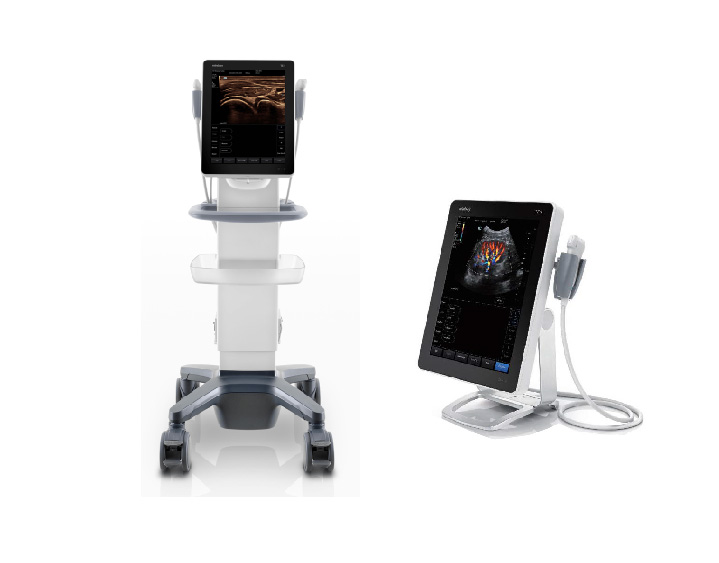 Our final system on this list is the Mindray TE5 and it might just be the best overall value in a portable ultrasound machine we've ever seen. This unit is specifically designed for Point of Care and MSK with all of the state-of-the-art features you find in $40,000 ultrasound systems for half the price. Simply said, this ultrasound machine is fully loaded. Needle visualization technology, full touch-enabled response, 4D magnetic needle navigation technology option (think of the same missile guided technology found on the Samsung), artificially intelligent voice recognition, built-in tutorial software, and extremely easy to clean and disinfect. The TE5 is also one of the best 2D imagers available on this list. Available new with a standard 5 year factory warranty the TE5 is a great addition to any practice.
In Conclusion
There are numerous options of ultrasound systems available that in many cases cater specifically to certain applications. Depending on your personal preferences, prior experience, and target budget it's still quite possible that one of the heralded options on this list may not be the best fit for you. If you'd like a friendly guide in your search for the right unit at the best prices in the market, contact us here and we'll make sure to lead you in the right direction. With most major brands and models available our team is incentivized to help identify the unique solutions at the industries best prices.